LONG BEACH AREA DRAFTSMAN FOR RESIDENTIAL AND COMMERCIAL CAD DRAFTING SERVICES. WE OFFER DESIGN & DRAFTING FOR CUSTOM HOMES, TENANT IMPROVEMENTS, REMODELS, ADDITIONS, 2ND STORY ADDITIONS, CODE VIOLATIONS, AS BUILTS AND SITE PLANS.
A PROFESSIONAL CAD DESIGN/DRAFTING COMPANY SERVING THE GREATER LONG BEACH AREA. WE OFFER RESIDENTIAL & COMMERCIAL DRAFTING SERVICES & BLUEPRINTS

The Long Beach Design Group is a Long Beach based Professional CAD Drafting Company who offers Drafting services for Residential & Commercial Construction projects. We have professionally trained Draftsman who have extensive experience in Drafting & who can provide you with excellent Drafting services throughout California.


We would love to speak with you regarding your project. Please give us a call @ (562) 553-0200 to speak to a friendly staff member regarding Drafting Blueprints, or fill out our Free Estimate form on the right side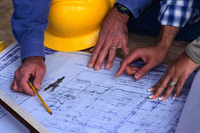 We offer complete Construction Drafting services from the initial design phase all the way through the Permit process. Whether its a Residential or Commercial Remodel, Addition, Kitchen, Bathroom or a complete Commercial T.I., let the Long Beach Design Group assist you with all of your Drafting needs in the Long Beach area. So if you're in the greater Long Beach area and looking to Remodel your home or perform an Addition, add a 2nd floor or even convert your Garage into livable space, call The Long Beach Design Group assist you with your Drafting & Construction Plans.


Contact us @ (562) 553-0200 to speak to one of our friendly staff regarding CAD Drafting & Blueprints in the Long Beach area including: Belmont Shore, Belmont Heights, Seal Beach, Naples, Signal Hill, Lakewood.
We offer Professional Building CAD Design & Drafting of Construction Plans for the following:
Residential & Commercial projects
Custom Homes
Whole house Remodels
Remodeling & Additions
2nd story Additions
Tenant Improvements
New Garage Construction
Garage conversions
Restaurant Remodeling or Renovation
Hair Salon Remodels
Night Club Design or Remodel
Coffee Shop Re-design or Remodel
Churches & Religious organizations
Retail Improvement or Remodeling
Franchise Tenant Improvements
Casitas
In law quarters
Patio Covers
Decks & Balconies
Trellises
WE EVEN OFFER ASSISTANCE TO PEOPLE WHO HAVE ALREADY BUILT THEIR PROJECT BUT NEVER GOT A BUILDING PERMIT! CALL US TODAY FOR A FREE CONFIDENTIAL OVER THE PHONE EVALUATION & LET OUR PROFESSIONAL TEAM ASSIST YOU WITH YOUR CONSTRUCTION PLANS, BLUEPRINTS & PERMIT ASSISTANCE. (562) 553-0200

WE CAN EVEN TAKE CARE OF YOUR TITLE 24 REPORT

Contact us @ (562) 553-0200 to speak to someone regarding Drafting or fill out the Free Estimate form on the upper right side



WE SPECIALIZE IN THE DRAFTING & DESIGN FOR CONSTRUCTION PLANS & BLUEPRINTS FOR: CUSTOM HOMES, REMODELS, ADDITIONS, 2ND STORY ADDITIONS, LOFT CONVERSIONS, GRANNY FLATS, CASITAS, GARAGE CONVERSIONS, TENANT IMPROVEMENTS, COMMERCIAL REMODELING.




Professional Design and Modeling Tools

Custom Plans, Full Working Drawings and Blueprints, 3D Models, Photo-realistic 3D Renderings & Virtual Walk-Thru, CAD details for the contractors and building permit process.



Visualization

Design & Drafting, Design and 3D Visualization Create a virtual look and feel of the design before it is built with actual colors and finishes, wallpaper, flooring, furniture, windows and window treatments.



Professional Drafting Service in Long Beach

Professional Drafting Services are a great resource to ensure the most effective design and to illustrate a 3D model of the completed project before construction begins. A "Materials List" and "Schedule of Materials" can be created to determine an estimate or a bill-of-materials. Finally, all the design information can be used to provide a full working drawing, blueprints and all other pertinent CAD details for the sub-contractors and building permits.



Affordable Residential Design and Drafting in Long Beach

If you have a dream home let us help you make it a reality. We can provide you with a quality design, drafting & rendering to help you visualize your new home long before construction begins.



Design Services in Long Beach:

From your concept sketch we will provide you with preliminary drawings that illustrate the scope of work. Then upon your approval, we will create a comprehensive set of blueprint documents, that adheres to your design intent and specifications, which may then be used throughout your project, from the bidding process, to fabrication and installation.



Client Services:

We can also collaborate with you in the development of projects. We are more than happy to share our passion for design and years of experience to provide designs based on the client's requirements, taste and decor. We will also research and recreate details for restoration projects.



Paper to CAD Drafting:

Many firms are converting their hand drawn documents to disk or CD for easy storage. In most cases these documents are scanned, creating an image which can't be edited or easily reproduced. We will create your documents in CAD drawing files, which may be easily edited or reproduced as needed.
Long Beach Design Group offers excellent CAD Design & Drafting services for Blueprints throught the greater Long Beach area. We have highly skilled Draftsman who have years of Drafting experience in both Residential Drafting & Commercial Drafting. Our Drafting services can provide you with: Site plans, As Builts, Floor Plans, Exterior Elevations, Lighting Plans, Roof Plans, Foundation Plans. Our Drafting abilities allow us to Draft in 3D, which means that we can show you what your project will look like in 3D not 2D. A much more realistic look. If youre looking for a Professional set of Construction Blueprints in the greater Long Beach area, we can assist you with all your Design & Drafting needs! We offer the following CAD Drafting services by our professionally trained Long Beach Draftsman. We Draft the following:


Design & Drafting Residential New Homes Spec Homes
Design & Drafting Custom Homes
Design & Drafting Whole house Remodels
Design & Drafting Remodeling & Additions
Design & Drafting 2nd story Additions
Design & Drafting Tenant Improvements
Design & Drafting New Garage Construction
Design & Drafting Garage conversions
Design & Drafting Restaurant Remodels
Design & Drafting Hair Salon Remodels & Renovations
Design & Drafting Night Clubs
Design & Drafting Coffee Shops
Design & Drafting Churches & Religious organizations
Design & Drafting Retail Remodeling & Improvements
Design & Drafting Franchise Tenant Improvements
Design & Drafting Casitas
Design & Drafting In law quarters
Design & Drafting Patio Covers
Design & Drafting Decks & Balconies
Design & Drafting Trellises



Our drafting services are affordable and accurate. Services include CAD drafting (primarily AutoCAD), redline markup changes and design. We serve Long Beach Residential Architects, Seal Beach architecture firms, independent architects, interior designers, contractors, commercial/residential developers and home builders in Long Beach. Contact our regarding our Drafting Services team to discuss your needs at (562) 553-0200.

Call (562) 553-0200 to speak to one of our friendly staff members at Long Beach Design Group